Convenient touch free technology to easily manage access to your locations.
Security is always an issue but by applying our RFID technology you can control the access to a building, room, or event area more effectively and efficiently. Whether it is using RFID to keep vulnerable people safer in care homes, monitor people in and out of, or around your premises on a daily basis, or track who goes in and out of a large conference event or lecture theatres – with RFID you keep the flow of traffic moving at a steady pace, eliminating the need for queues at entrances and exits, as well as determining levels of access, seamlessly, and increasing access and inclusivity.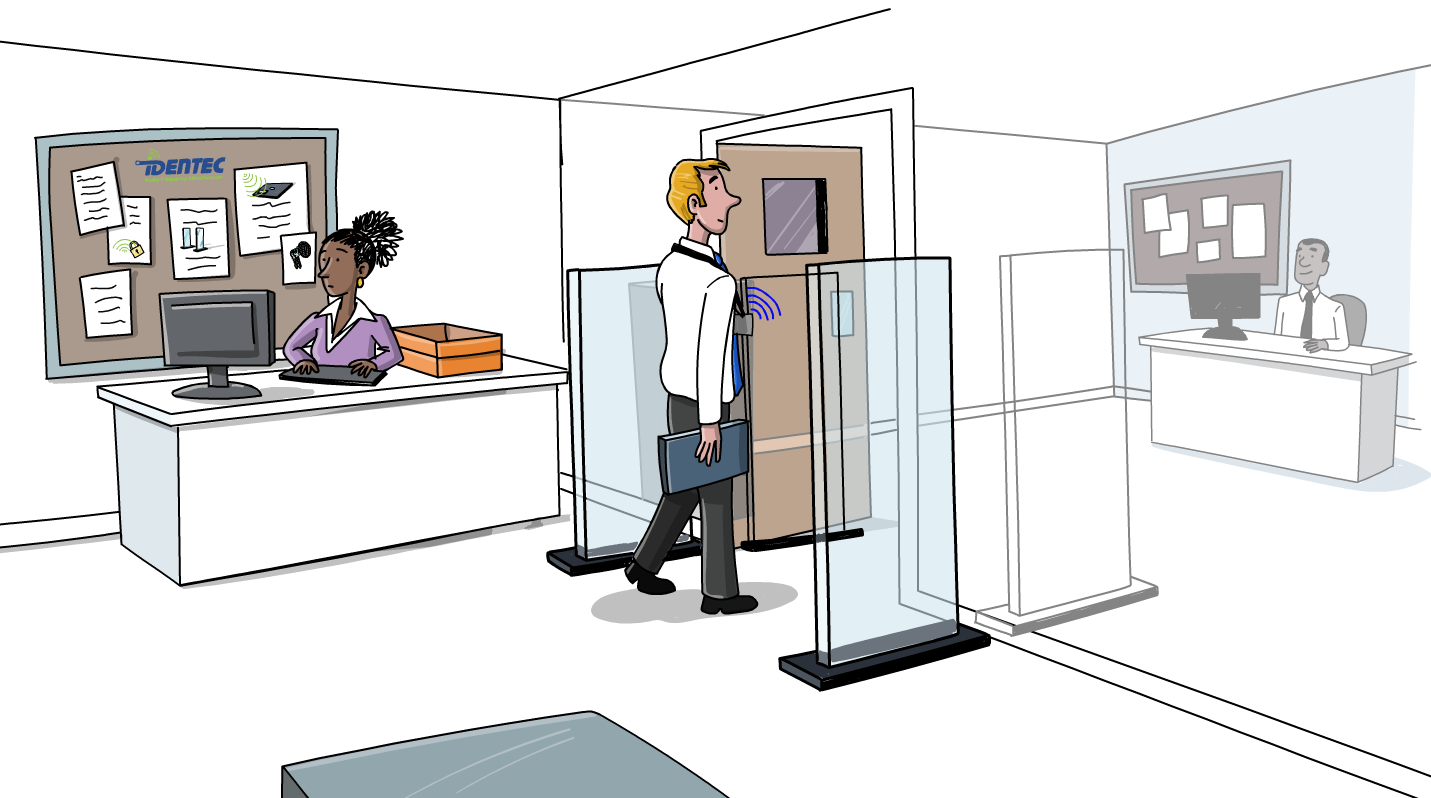 RFID can be used to control access to multiple rooms or buildings by applying our pioneering technology at one or multiple entrance and exit points
How does RFID work in access control applications?
Different RFID frequencies, short, medium, and long-range, can be used to enable the ideal read range for a specific use case with our options of loop aerials, aerial stanchions, and more solutions on offer. With the ability to integrate with any third-party access control systems with our specialised direction sensing solution you can monitor not just a single direction but the combined entry and exit.
By tagging items with our RFID active tags, you can automatically and uniquely identify and track people and things seamlessly, whenever they are in range. The tags come in all shapes and sizes depending on your need and are secure using encrypted data.
Automated time & attendance real-time reporting is achieved with our high speed unique Identec RFID. No need to present a card or tag to any readers at any point.
Where will I see RFID in access control applications?
RFID access control applications can be found in hazardous working environments, large scale events, to improve access for disadvantaged personnel and increase the security of your people and most valuable assets whether they are places and things.
Who uses RFID in access control applications?
Access control is used by small, medium, and largest enterprises with complete scalability.
Why should I use RFID in access control applications?
With our RFID cutting edge technology you can monitor where people, property, or assets are entering or exiting exactly at every access door on site that is required, which is why many companies have begun successfully incorporating RFID into their access control applications.