Improving patient safety and inventory management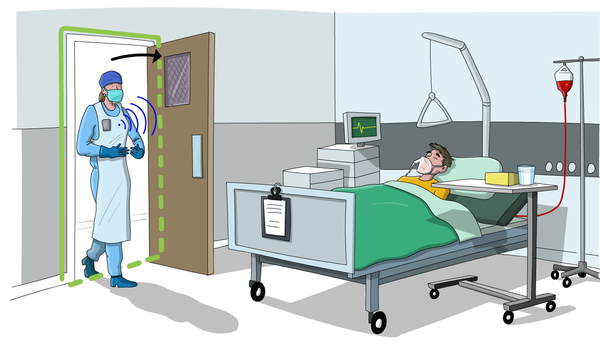 The business challenge
Hospitals and healthcare providers are facing increasing challenges with inventory management and patient safety, often due to the manual tracking of medical supplies and equipment. By implementing a technology solution this could improve inventory management and reduce the risk of errors during patient care.
It can also offer an improved solution for hygiene and infection control in clean or sterile environments – including kitchens, laboratories and pharmaceuticals.

Our RFID solution
Our technology has numerous applications in healthcare, including improving patient safety, inventory management, asset tracking, and more, and has the potential to improve patient safety, increase efficiency, and reduce costs in healthcare.
There has been rapid growth in the use of or RFID technology in healthcare settings over the past few years. Without human intervention our RFID technology can help healthcare providers improve efficiency and patient safety by automatically capturing data.
To track patients, locate equipment, and fast-track care, healthcare providers employ RFID-enabled technology, including real-time location systems. Using RFID tags to
Track patients ensuring they receive the correct treatments and medications at the right time.
Attach to medication to help reduce errors in medication and dosage.
Track medical equipment so it can be located quickly and efficiently, when needed reducing the time spent searching for equipment and improving patient care.
Monitor surgical instruments throughout the surgical process, from sterilisation to use in the operating room.
Enhance hand hygiene tracking practices to prevent hospital-acquired infections.
Record and track individuals' belongings reducing loss.
How does it work?
Medication, medical equipment and surgical instruments are each tagged with an RFID tag. The tags are then automatically scanned and identified by RFID readers when passing through a detection portal located throughout hospital or healthcare settings, to track the location and status of each item.
Patients are also given RFID wrist tags that contain their medical information and could be scanned by healthcare providers to ensure that they received the correct medications and treatments. This can also assist with the free movement of vulnerable people within a defined safe area.
The RFID system is integrated with existing management systems to enable real-time tracking.
The Impact
Healthcare settings and hospitals see significant improvements in both inventory management and patient safety. Overall, RFID technology has the potential to improve efficiency, accuracy, and patient safety in healthcare by providing real-time information and enabling automation of routine tasks.
Want to know more read our insight Smart healthcare enhances patient care and outcomes