Mass Evacuation
In an emergency situation that requires Mass evacuation, Identec can Tag people to enable hands free detection of up to 20 tags per second as they look to exit a building swiftly. Our technology allows for live muster reports to be created. You will be able to know who and where everybody is located. Using our unique technology, we can create real time alerts and accurate location information.
Automated Time & Attendance reporting is also achieved through our high speed unique Identec RFID. No need to present a card or tag to any readers at any point. Simply walk through our Identec radio frequency fields with your Tag present anywhere on your body or in a bag. Real time instant reporting is achieved. Alongside any third-party software through our Wiegand outputs.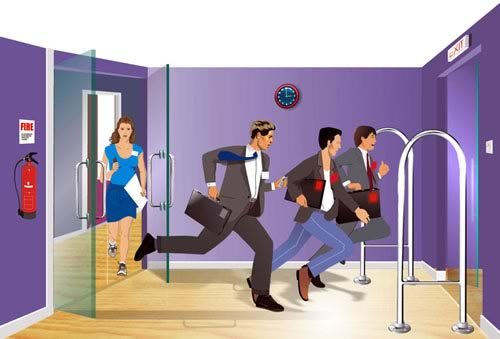 Our RFID technology can be used to prevent injury and act fast in an emergency situation.
Equipment Options
Readers
CR1-MS - Configurable Outputs.
External Aerials
AS-01 - Stainless steel stanchion.
GS-01 - Customised aerial. (not illustrated)
Loop - Installer Configurable. (not illustrated)
Equipment Features
Dual Aerial support.
Highest Probability of Tag Identification.
Non-contact reading up to 3 metres.
12-27V @ 300mA operation.
Serial & Wiegand or Serial & Clock and Data outputs available.
Readers
AS-01 Reading Range up to 2 metres.
GS-01 Customised aerial (not illustrated).
Loop Installer Configurable (not illustrated).