Entry and Exit Monitoring
Time and attendance monitoring.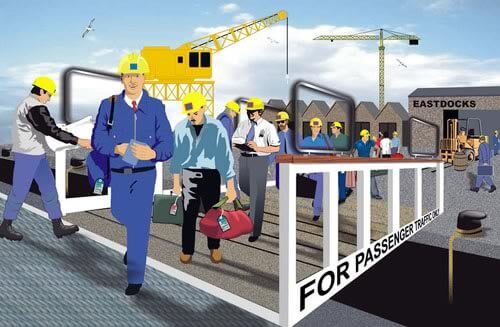 Our RFID technology can be used to prevent injury and act fast in an emergency situation.
Equipment Options
Readers
CR1-DS-MS - Configurable Outputs.
External Aerials
AS-01 - Stainless steel stanchion.
GS-01 - Customised aerial. (not illustrated)
Loop - Installer Configurable. (not illustrated)
Equipment Features
Highest Probability of Tag Identification.
Direction Sensing.
2x External Pairs of Loop Aerials.
Non-contact reading up to 3 metres.
12-27V @ 400mA operation.
Dual Serial & Wiegand or Serial & Clock/ Data outputs available.
Readers
AS-01 Reading Range up to 2 metres.
GS-01 Customised aerial (not illustrated)
Loop Installer Configurable (not illustrated)